VIO® 3
25 million & more reasons to trust our reliability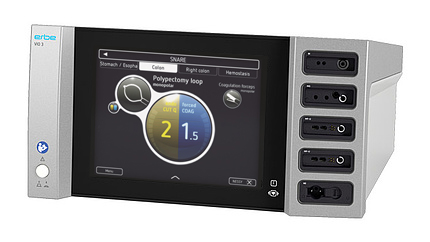 REF No. 10160-000
Clinical utility: reliable, reproducible and homogeneous tissue effects
User friendliness: intuitive, logical operation customized for clinical applications
• State-of-the-Art Micro-processor provides measurements on target tissue at more than 25 million per second.
• Optimized patented power supply unit (400W device class - high dynamics with up to 8 Amperes) enhances energy output especially with high and varying impedance loads, e.g. saline enriched electrosurgical circuit.
• Constant voltage regulation with power dosing automatically delivers lowest effective adjusted power output in all modes.
• Spark Recognition automatically detects the formation of micro electric sparks for controlled and reproducible cuts, and for applicable COAG modes to reduce carbonization and adhesion of tissue to the instrument.
Spark Regulation (micro electric arcs) provides reproducible, efficient cuts in tissue with high or extremely low impedance
• Initial Control Support, for even the most challenging electrosurgical circuits:
Power Peak System™ (PPS and Special PPS)
Initial Cut Support
QuickStart
Spark Support
• Neutral Electrode Safety System (NESSY®) provides an enhanced safety profile through dynamic, patient specific neutral electrode monitoring of patient impedance levels and return electrode orientation.
• Software updates and improved service via secured WiFi offers continued access to the latest performance and application enhancements and more efficient Service from Erbe.
• Proprietary Voltage and Spark Control provide cutting results largely independent of the cutting speed, shape of the electrode and the tissue type as well as reproducible coagulation with optimally adjusted output

• Power bar display provides actual power utilized during and at the end of activation

• Multilingual stepGUIDE provides enhanced, user friendly operation with a logical and intuitive interface

• Digital instrument recognition technology automatically configures the system to preprogrammed experienced starting settings and instrument specific parameters

• Large touchscreen display with FocusView allows active instrument to be shown on the display

• 20 program groups ensure a clear structure and optimized workflow for program settings

• ReMode® function allows selection of up to 6 sub programs directly from the procedural field

• Immersible and machine washable footswitch design with ReMode® functionality
• New and improved modes for various applications and clinical specialties, supporting monopolar, bipolar and the Erbe proprietary hybrid technology
• More precision with incremental effect settings to fine tune target tissue effects
• CUT modes: autoCUT®, highCUT™, dryCUT™, endoCUT® I, endoCUT® Q, autoCUT® bipolar, highCUT™ bipolar
• COAG modes: preciseSECT™, softCOAG®, forcedCOAG®, swiftCOAG®, twinCOAG®, sprayCOAG™, softCOAG® bipolar, forcedCOAG® bipolar
• APC® waveforms available with APC® 3 module: pulsedAPC®, preciseAPC®, forcedAPC™